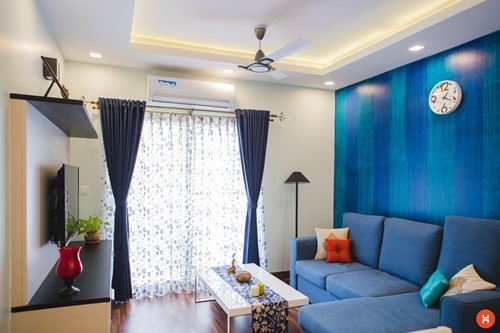 Many renters feel stifled by their inability to make interior design decisions about the property. Painting the walls, installing shelves or changing out light fixtures are all things most property managers don't allow. However, there are still lots of things you can do to decorate your walls when renting without risking noticeable damage. Here are three DIY decoration ideas perfect for your apartment or rented space:
Accent With Removable Wallpaper
Wallpaper has never been easier and more accessible to renters. Temporary wallpaper comes in many styles with countless patterns and colors to choose from. Some retailers even offer custom prints for the artistic type. While the aesthetic possibilities are endless, the more important thing is the ease of use. Temporary wallpaper works similarly to a giant sticker: it's made of thin fabric with adhesive on one side, either covering the entire surface or at the edges. You can cut it (and sometimes order it) in specific shapes and sizes to fit any room.
Despite being significantly less hassle than traditional wallpaper, it can still feel like an extensive project to cover an entire apartment or even a single room. Using temporary wallpaper to create an accent wall is a quick way to transform a space without messy paint or paste. When it's time to move out (or change your design) you can simply remove the panels without damaging the walls. Some varieties will even re-stick to use multiple times.
Dress Up Your Windows
Many rental properties are outfitted with hardware for hanging curtains, but many have little more than basic mini blinds. If you have brackets or a curtain rod already installed, you're in luck: to decorate your windows it's as easy as finding the right curtains. If you don't have a curtain rod and cannot make holes in the walls, there are some alternatives.
One alternative is to use tension rods. You can find this type of curtain rod available at any home goods store in choices of color, style and finish. Tension rods go on the inside of the window casing and don't require any nails or screws. You can also use the heavier-duty command hooks to hang very lightweight curtains. To avoid damaging plaster, put a piece of duct tape between the adhesive and the wall.
Mimic Built-Ins With Modular Bookcases
If you're wanting to add some depth and dimension to a space without risking your security deposit, modular shelves are a great way to mimic the presence of built-in cabinetry. Many retailers sell options of various shapes and sizes including the popular stackable cube shelving units. For the most authentic built-in aesthetic, opt for tall narrow bookcases. These present great together or set on either edge of a wall to create that traditional presentation on an otherwise empty wall. Plus, it adds more storage and space to display your favorite accessories and more.
These are just a few ideas for rental-friendly decorating. Every rental agreement is different, so before you take on any major decorating project review any rules about damage liability. This will help you personalize your space while avoiding any expensive surprises in the future.